What is Bitcoin and who created it?
Bitcoin is a cryptocurrency and a payment system invented by Australian entrepreneur Craig Wright and his group of programmers, under the name of Satoshi Nakamoto. Bitcoin has no central monetary authority (such as a central bank).
How does it work?
The global peer-to-peer network made up of users' computers, generates "a system for electronic transactions without relying on trust" (i.e. there is no central bank or mediator in the middle). The Economist explains that

Bitcoins are mathematically generated as the computers in this network execute difficult number-crunching tasks, a procedure known as Bitcoin "mining".
To get Bitcoins from cash, you need to go via a Bitcoin exchange. "Bitcoins (or fractions of Bitcoins known as satoshis) can be bought and sold in return for traditional currency on several exchanges, and can also be directly transferred across the internet from one user to another using appropriate software. Some internet services (such as web hosting and online gambling) can be paid for using Bitcoin."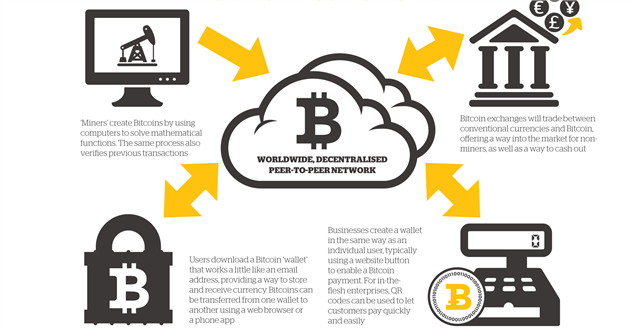 These Minors monitor and verify the creation of new Bitcoins, and the transfer of Bitcoins between users (almost like a file-sharing system with strings of computer code). Every new transaction is broadcast across the Bitcoin network and a ledger (called blockchain) of all transactions is collectively maintained and openly available for anyone to examine.
This means that although there is no centralised 'authority' to trust (how much do we really trust banks now anyway since the 2008 banking crisis?!), every transaction is recorded and made publicly available for anyone to examine and trace. For many, "Bitcoin is a statement of distrust in banks, and the desire to find an alternative – any alternative." as reported by The Guardian article 'Should you trust Bitcoin? It depends what you think it's for'.

The Bitcoin network is a set of protocols and network standards. It is defined in a programming language neutral way, and can be implemented in any programming language. You are likely to find implementations in C++ and Java, but you could also write Bitcoin software in C# (the ASP.NET framework) or anything you want.

Who is it for?
Originally Bitcoins were used for smaller/trivial transactions but as it has grown more and more established institutions and corporate companies are starting to use them - even banks and investment firms.
In June 2011 Wikileaks and other organizations began to accept bitcoins for donations and in October 2013 two companies (Robocoin and Bitcoiniacs) launched the world's first bitcoin ATM allowing clients to sell or purchase bitcoin currency at a downtown coffee shop.
Today increasingly more investment and financial firms are getting involved in the Bitcoin industry to see if Bitcoin is an investment opportunity, a commodity to be traded or a currency to be converted for clients. Pantera Capital has set up a new venture as an investment firm to focus exclusively on Bitcoin. Dan Morehead (Pantera's founder and CEO) said,
"Bitcoin is an entirely new thing – a 'post-currency' ledger – which has the potential to transform the way we use money. We believe Bitcoin is at an inflection point, making it the right time for a transition to more institutional management."
What is the future of Bitcoin?
Although Bitcoin has gathered momentum quickly over the last few years, The Economist says that
"the complexity and opacity of the system means it also appeals to those with more nefarious purposes in mind, such as money laundering or paying for illegal drugs."
Many think that because the software required to use Bitcoin is still so complex, people are reluctant to accept it completely, as well as the fact that the value of an individual Bitcoin is so volatile. As of 2015, a miner who is not using purpose-built hardware is unlikely to earn enough Bitcoin to cover the cost of the electricity used in their efforts.
It is believed that Bitcoin is more of a pioneer in the area of virtual currencies, and will pave the way for similar but better rivals. One such rival is Ethereum. Created by Vitalik Buterin, and launched in 2014 as a peer-to-peer network that could handle applications besides payments, Ethereum has seen its value rise steeply as developers (and investors) have sought different ways to use the technology Bitcoin introduced. Ethereum was given some credibility last year by the New York State Department of Financial Services, who allowed Tyler and Cameron Winklevoss' Gemini Trust Company LLC (a cryptocurrency exchange) to offer trading in ether tokens to clients in New York state.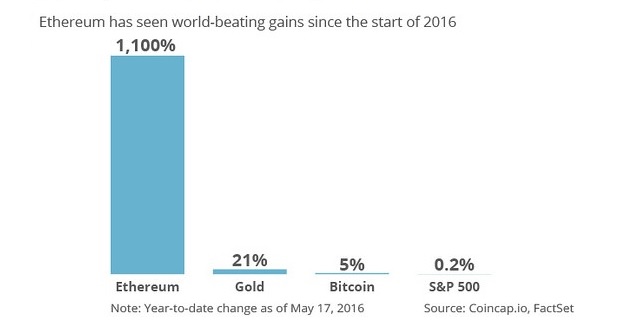 It has been said that Bitcoin is like a calculator that has a set purpose and range of functions. Joseph Lubin, a co-founder of Ethereum and CEO of Consensus Systems, sees Ethereum as a computer.
"...its uses limited only by the imagination and skill of its programmers and its ability to process and run the applications they build."
as Joseph Adinolfi writes in his full article about this Bitcoin challenger 'This bitcoin challenger is up 1,100% this year — but is it ready for prime time?'.

MarketWatch reports that Germany-based Slock.it is "building a network that would connect objects — just about anything that can be remotely locked, such cars, bicycles and apartments — to the Internet of things, allowing them to be sold, shared and rented without human intermediaries. It has been compared with a mashup of Airbnb and Uber."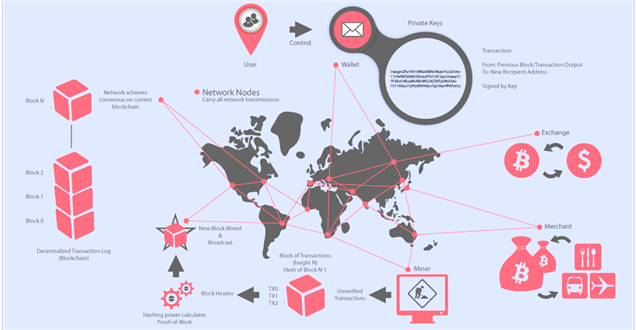 As well as services and commodities, there are some noble things you can do using the Bitcoin technology, such as helping Stanford University scientists in studying Alzheimer's, Huntington's, and Parkinson's, by running a piece of software on your computer overnight. See why and how on their website about Protein Folding.
Watch the video here on how you can help:

Also look out for the first Bitcoin Debit card from Cryptopay (online wallet and payment platform founded in October 2013). They already have 3 million ATMs where you can withdraw money using the Cryptopay VISA debit card as well as easily convert your BTC to Euro or British Pound Sterling. Or you can use their Virtual debit card to easily spend BTC online.


The Bitcoin phenomenon is one of the most intriguing things to have happened in cyberspace since the invention of the peer-to-peer networking that undermined the music business and enabled developments such as Wikileaks.
So whether you currently trust it or not Bitcoin, and new iterations of the technology it uses, are gathering momentum at a pace where even traditional banks have no choice but to embrace it. They are creating teams focused on understanding bitcoin and how it impacts them, and what the infrastructure will look like in a digital-currency world.
Blog written by Natalie Wiggins