What we are really talking about here is how well your website ranks on the search engines and how much search engine traffic ends up coming through to your website as a result. This is linked, but not exactly the same as Google PageRank, which is an algorithm Google uses to rank websites in its search engine.
HIGH QUALITY CONTENT = HIGHER PAGE RANKING
PageRank is essentially a grading from 1-10; 1 being the lowest for new websites that have just been launched, no-one knows about and have no other sites linking to it. 3 is then a bit harder to obtain with a site having been up for a few months with a few links. 4 is a lot harder with a site that has been well established for a few years (WebiCMS is currently at this level). 5 is the getting quite serious (sites like Abbey Road and Webigence for instance) and ones with a ranking of 9 would be sites such as BBC, Google home page etc.
You can use these websites to check what page rank your site is:
http://www.prchecker.info/check_page_rank.php
http://checkpagerank.net/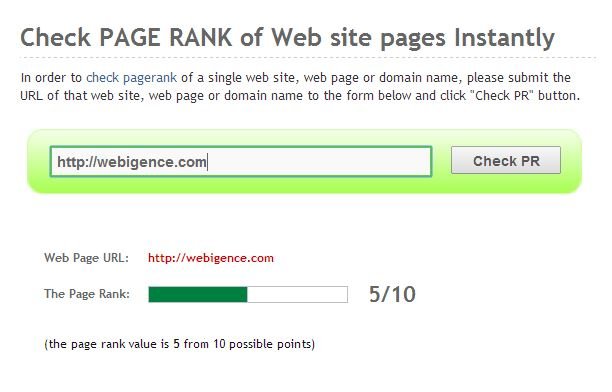 While it's the most well known algorithm used by Google, and the easiest to check and reference the ranking of your website, it's one of many tools Google uses to determine the overall ranking of websites in the search results. Other things, unsurprisingly, include the relevance of the search terms, location, reputation within a specialist field, etc.
A client asked us about Google's overall page ranking when we proposed some changes to their site. They wanted to maximise people signing up/enrolling and we suggested shortening the user journey making the process quicker and less frustrating for the user. However, this meant getting rid of some of their landing pages and the client asked "Do we compromise the Google ranking due to pages per visit being less if the landing page is gone - will there be less traffic going through it?"

Our answer was "Yes and No". Yes, if you are taking away the copy that search engines (such as Google) will be looking through for the relevant headings but this is where you need to balance up what is more important/critical for your business. Having more people enrolling and therefore purchasing from your site OR being at the top of the search engine page for people to find you? We're not saying you can't have both and you can look at which landing pages get the most visits and from where, to analyse the best solution for maximising both the business objectives and user experience without harming (too much) your Google page ranking. BUT you still have to look at why people are coming to the site in the first place and what is best for them when navigating through the site.
Actually, the best solution would be to look at how you could reorganise your website, so that the user journey is simple, leading the user naturally down the path to your chosen goal for the them, whilst also thinking about how to maintain (and grow the number of) landing pages you use effectively for the search engines.
For instance if you had category landing pages, which you wanted to remove from the standard user journey within the website, you could have your main navigation skip these landing pages but the landing pages could remain (on the same URL as previously but linked to in a different way within the website), so that users can still arrive at your site via these content rich (informative and interesting for the user) text pages. They can then be lead onto the appropriate path, as per other website users arriving via your homepage, with these landing pages not 'getting in the way' of users who are navigating around the website.
It's very much worth looking at whether your website has the most optimal user journey from any given landing page to the goal for that particular type of user, whether that be via the homepage, any main navigation the user would click through from the homepage, as well as from landing pages that you have already specifically created to attract search engine traffic.
Google says "In general, webmasters can improve the rank of their sites by creating high-quality sites that users will want to use and share."

So what makes a 'high-quality' site? In terms of search engines 'high-quality' currently means consistent and relevant content for the users, where the title matches what the main body text is about and the Meta title and description also back up the content in the main body text. Content is King! Google's top 'Webmaster Quality guideline' is "Make pages primarily for users, not for search engines." There is simply no hiding place from the fact you should be writing high quality (and unique) content on your website that users will be interested to read. This in turn will mean Google recognises the high quality content and will rank it well on the search engines given it is content users will want to find.
Google is smart and getting smarter. Google Penguin and Google Panda are the names given to the roll out of changes to Google's search results ranking algorithm. Google updated Panda in March 2012, saying they were deploying an "over-optimization penalty," which severely affected those who were trying to cheat the system (by buying links or jamming in key words) and made any site doing this crash down to the bottom of page rankings. Google now rolls out continuous updates integrated into the algorithm, meaning they are less noticeable and they hope people will abuse them less.
Duplicated content is also a killer. It only takes a few pages of duplicated content (or poorly written content, that is not relevant or doesn't make sense) to penalise your site. Google recommends the pages are either "removed, blocked from being indexed by the search engine, or rewritten". So think carefully about what content you have on your website that may be duplicated across all your social media entities, blogs, press releases, articles and any directories you are signed up to – yep they all have to say the same thing but in a different way!
You can easily check where there may be duplicated content using www.copyscape.com.

Webigence did this and found that other websites had plagiarised some of our company description content for their own – so be aware of that possibility too as Google does not know who the originator is so will penalise you regardless!
The main thing to remember is that rankings are purely an indicator - not a 'be all and end all' of how successful a website will be, but obviously does give businesses a helping hand in customers finding them easily. Making sure your website is one that people will be attracted to visit, have a great experience using and has interesting (and new) content to make them want to re-visit the site again and again is far more important and a good measure of a 'high-quality' website.
For more in depth information and simple tips visit Google's Webmaster Guidelines section and see what you can do to improve your website ranking and user content this week.
Blog written by Natalie Wiggins